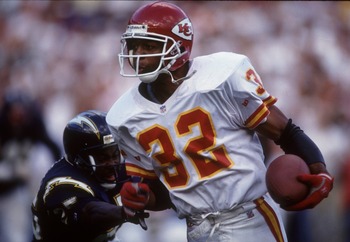 While many in league circles feel the NFL lockout could be settled sometime this week with the negotiating of a new CBA, one former Chiefs player could be part of a group of retired NFL players throwing a wrench into the plans.
That would be Marcus Allen.
According to ESPN.com, a group of retired players, including Carl Eller, Franco Harris, Marcus Allen and Paul Krause are asking Judge Susan Nelson to halt the current labor negotiations she ordered that are now taking place under the supervision of U.S. Magistrate Judge Arthur J. Boylan.
Why? Well, basically the retired players believe they deserve a seat at the table because their benefits will be impacted by the terms of a new CBA.
Here is a bit from ESPN:
The retired players say that NFL owners, the NFL Players' Association and a group of current players including star quarterbacks Tom Brady, Peyton Manning and Drew Brees are "conspiring to depress the amounts of pension and disability benefits to be paid to former NFL players in order to maximize the salaries and benefits to current NFL players."
Sheesh. Will it never end?