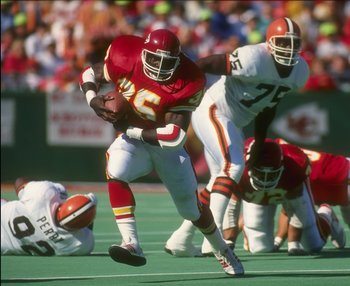 Former Kansas City Chiefs RB Christian "The Nigerian Nightmare" Okoye has decided to weigh in on the NFL lockout.
His message?
"Don't deny the fans football."
Okoye wrote the guest commentary for the Kansas City Star. Here is a sample:
Under the previous labor agreement, the league became the best it has ever been competitively and financially. Why are the owners messing with the success of the game and continuing to risk losing the goodwill of our fans by refusing to lift the lockout?
But it's not just the fans that are negatively affected by this lockout. The owners' actions impact thousands of workers and businesses whose livelihood is directly linked to Sunday football. All players who have worn NFL jerseys take our responsibility to those people very seriously, and I think it's important for players to be on the field because of what they mean to each NFL city. A small-market city like Kansas City relies on training camp, preseason games and the regular season to boost its economy
Interesting to hear from former Chiefs on the lockout. Head over to The Star for the rest of Christian's commentary.
Now if you'll excuse me, I am going to go play some Super Tecmo Bowl.