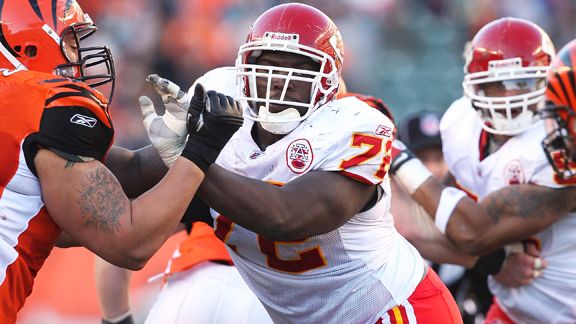 The NFL draft is over and the NFL lockout is still in full effect so that means it is time to get back to evaluating the Kansas City Chiefs roster.
You may remember back in January and February, we started a series going through the roster and using advanced Pro Football Focus statistics and grades to get a more accurate view of how each player performed in 2010. In this series we hope to shed more light on which players are actually getting the job done, while also dispelling some myths.
Pro Football Focus grades every snap of every play for every player. They go beyond the box score and help us to see where a player excels and where, if anywhere, he falls short.
With that, let's continue our series by taking a look at former first round selection Glenn Dorsey.
Dorsey has had quite the turbulent career in KC. Taken as the fifth overall pick in the draft, Dorsey was a big disappointment in his first season. Drafted to play DT in KC's then 4-3 defense, Dorsey had a terrible time making the adjustment to the NFL. He was slapped with bust suspicions right from the off.
In Dorsey's second year, Todd Haley came to town and many in KC and the switch to the 3-4 defense began. Dorsey appeared to be the odd man out. Most believed 4-3 DT to be his natural position and since he was not very good at that, not many folks believed he would be a fit in the 3-4 defense. He was not expected to be long in KC.
Dorsey's showed some improvement in his first year as a 3-4 end. While still below average, he played much better than he did in his rookie season. There was plenty of room for hope considering Dorsey was learning a new position, while playing on a terrible team, in a new defense, under an awful defensive coordinator. 2010 was to be his big year. It was his third year in the NFL, his second in the 3-4 system. It was time to put up or shut up.
How did he do?
Well, according to Pro Football Focus, the reviews are mixed.
Dorsey still appears to be improving in some areas of his game while others are still lacking. Let's go deeper with PFF.
Dorsey was graded as the 24th best 3-4 DE out of 42 qualifying players. His overall grade for the season was +1.8, which is perfectly average. The overall best grade went to 49ers DE Justin Smith. Smith blew away the competition with a +44.9 grade. The drop off to Green Bay's Cullen Jenkins, who came in at number two, was significant. Jenkins received a grade of +15.9. The worst qualifying DE was Nick Easton of the Pittsburgh Steelers. He received a grade of -14.3.
While Dorsey was in the middle of the pack with his overall grade, he wasn't average in every area. Let's take a look.
The numbers:
Snaps: 937
Dorsey played a ton of snaps for a lineman. He played far and away, more snaps than any other qualifying DE. The next closest was Darnell Docket who came in with 869. Dorsey can't claim, however, that his number of snaps were the cause of some of his deficiencies. Justin Smith was third with 816 snaps.
The good news is that Dorsey is durable. The Chiefs added some more depth at DE, which should give Dorsey some more opportunities to rest.
Penalties: 2
Not bad considering the number of snaps he played. No real issue here.
Sacks: 2
QB Hits: 6
Pressures: 18
Batted Passes: 0
Tackles: 53
Missed Tackles: 3
Stops: 43
The Grades:
Rush: -11.6
Coverage: +1.5
Run: +9.2
Evaluation:
Like most of his career, Dorsey's 2010 season was a mixed bag. The good news is that he is clearly improving in some areas. The bad news is that he couldn't beat a 5 year-old to get to the QB.
Dorsey graded very high against the run. I was saying all year that I saw him getting off block well when playing the run and PFF's grades confirm that. Dorsey's +9.2 grade against the run was the 4th best rating in the NFL. Who was #3? Shaun Smith with a grade of +10.1, though Smith played only 387 snaps.
The big number that shows Dorsey's effectiveness against the run his number of stops. PFF gives a player a stop when they record a solo tackle that constitutes an offensive failure. Getting stops was supposed to be Dorsey's bread and butter as a 4-3 DT. He was expected to be very disruptive up the middle by getting into the backfield to blow up running plays. Well, he did just that in 2010. Dorsey's 43 stops were third among DE's. Only Kenyon Coleman (45) of the Browns and Justin Smith (47) had more.
In the tackle department, Dorsey (53) was second only to Colemen (54). While tackles aren't a sure indication of success, they are a little bit better of a barometer for a lineman. There likely weren't too many tackles Dorsey was making 30 yards down field.
While Dorsey was way above average at playing the run, he was absolutely terrible at rushing the passer. His -11.6 grade ranked him 40th out of 42 players. Ouch.
Dorsey did rank 12th in pressures with 18 but remember he played way more snaps than everyone else. His 2 sacks ranked him ties for 17th while his QB hits (5) placed him 7th.
So how many sacks is a 3-4 DE supposed to get, anyway? We often here folks saying that a 3-4 DE isn't supposed to get that many sacks. Is that true or isn't it?
Only nine DE's on our list had four sacks or more. Only five had five or more. Wallace Gilberry was one of those players, racking up 6 sacks.
So while it would help if Dorsey nabbed himself a couple of more sacks, he isn't likely to ever get more than a handful.
The Verdict:
I am definitely still rating Dorsey as an ascending player. While he still has some big question marks, there is no doubt that he is becoming a force in the running game. His problem seems to be that he is simply out of position at the DE spot.
In fact, pretty much the entire Chiefs defensive line is complied of guys who are playing the wrong position. Shaun Smith is an excellent run stopper and would be best utilized as a 4-3 DT or a 3-4 NT. Wallace Gilberry is an excellent edge pass rusher and could put up double digit sack numbers as a 4-3 DE. Unfortunately for GIlberry, he is too small to be in on running downs as a 3-4 DE and is probably too slow to rush as a 3-4 OLB.
The same seems to be true with Dorsey. His number of stops and success against the run seem to indicate that if he was in a 4-3, he would be a force on the inside. His pass rush would likely also improve because he would be going up against smaller guards and centers and would have less ground to cover when trying to get to the QB. As an end in the 3-4, even when Dorsey just doesn't have the speed to sneak up on the QB. If the QB knows he is coming, he can out run him. I saw it multiple times last year. Dorsey's only hope is that the QB gets flushed to him by rushers on the other side.
The Chiefs don't need Dorsey to get a billion sacks but if he is going to play over 900 snaps, they do need him to create more pressure.
If Dorsey was Shaun Smith and had a Shaun Smith-like contract, he would be just fine to hang on to. Unfortunately, Glenn was the 5th pick in the draft and while he is playing decent football, he is vastly overpaid. As each year goes by, Dorsey's contract will become more and more of a burden to the Chiefs. Unless he improves his pass rush, the Chiefs will likely have to platoon him ala Smith/Gilberry/Jackson.
The question is, will he be worth the money when the Chiefs will need to be paying guys like Tamba Hali, Brandon Flowers and Brandon Carr?
What do you think Addicts? How much better will Dorsey get and how long will the Chiefs decide to keep him around?