You've heard of the "Dog Whisperer" and maybe even of the "Horse Whisperer" but you may not have heard of the whisperer who does some of the most difficult whispering out there for the Kansas City Chiefs.
I'm speaking of course of Todd Haley.
Diva Whisperer.
Before I proceed, I feel that it is essential that I mention that I did not come up with this moniker. Like many of the great nicknames tossed around AA, this one did not emanate in my brain. Fantastic tags like "Perv" Smith, "Sweet" Ron Edwards, "Brokie" Croyle and Jon "Quickdraw" McGraw* were not my creations. Though I did come up with Mike "Eight-Pack" Vrabel and that has to count for something, right?
*Actually, this one I did just come up with myself. What do you think?
During the NFL Draft while chatting it up with some of our readers in the AA chat, one of you threw down the gauntlet. When the discussion turned to Jonathan Baldwin's character concerns, you were ready.
"Don't worry," you proclaimed. "Haley can handle it. He's the Diva Whisperer."
I chocked on my Metamucil.
"By God, he's right" I sputtered.
There is no denying it. Say what you will about Todd Haley, and many do, but the man knows how to "lay the smacketh down. "*
*Also not mine.
Haley's resume speaks for itself and It is time we start giving him some credit. When he arrived in KC, the expectations for the offense were great. Haley was, after all, the architect of the Arizona Cardinals offense that had just came within a "somebody, anybody, please for the love of God, someone push James Harrison out of bounds," away from winning the Super Bowl.
Todd Haley doesn't suffer fools and he proved it right away. He shipped off Bernard Pollard to the Texans.
He favored Mike Brown, who was a nice guy and all, but couldn't tackle and old lady with her ankles tied together. Pollard went off to Texans and got a few wounded duck interceptions and a bunch of tackles and the Chiefs faithful started calling for Haley's head. Never mind the fact that Pollard got the tackles because the Texans couldn't stop anybody and the interceptions because teams were throwing at like crazy because he was the most burned safety in the league that year. No, no. Pollard was awesome and Haley was a fool.
While I agree that it was stupid to replace a young safety that couldn't play with an old safety that couldn't play, Haley had made his point. He simultaneously laid down the law, while also showing the roster the kind of football player he wanted.
Haley knew the 2009 Chiefs were going to be rubbish pretty much no matter what he did. He also probably knew that Corey Mays sucked and that Mike Brown was a bit washed up. But those guys worked hard and did what he asked and Haley had to set the tone. He felt he had to change the culture of the team and Haley did that even in the face of harsh criticism. I have to admire that.
One thing Haley was expected to do the moment he arrived was turn the talented but inconsistent Dwayne Bowe into a Pro Bowler. Haley kicked things off by demoting Bowe on the depth chart.
Fans immediately began complaining. They claimed that Bowe and Cassel needed time to work together and that Haley was playing unnecessary head games with one of his best players. Instead, of going to the Pro Bowl, Bowe had his worst season as a pro. He also missed four games due to a suspension for taking a banned substance (a diuretic to lose weight).
Haley took the blame. It was Haley's fault Bowe missed the games. Haley was pushing Bowe too hard to lose weight. Blah, blah, blah.
The fact of the matter is, Bowe deserved what he got. The fact that he got himself suspended was a validation that Haley's methods were necessary. Haley asked Bowe to get in shape. Bowe thought he could cut a corner and cheat. He thought he could take a short cut without putting in the work. Unfortunately for Bowe, that isn't the way things work.
It seemed to take that entire season for Bowe to get it. Haley, as hard as he was on Bowe, never gave up on the WR. He called Chris Carter and asked him to serve as a mentor to Bowe. He encouraged Dwayne to go to Larry Fitzgerald's WR camp and work out.
This time, Bowe did things the right way. He talked to Carter. He worked out with Larry. He kept himself in shape.
All that did was send him to the Pro Bowl.
There are folks out there that will try to attribute Bowe's success to the arrival of former offensive coordinator Charlie Weis. Don't buy what they are selling.
Buy what Larry Firtgerald is selling. This is what he said last year before the Chiefs took on the Cardinals:
"He would call me a one-trick pony," Fitzgerald said last fall before the Chiefs played the Cardinals at Arrowhead Stadium. "He would just play these little tricks with me every day. He'd tell me that if I wanted to be a regular good player in this league for a long time, that's fine, I could be that. But if I wanted to be great, this is what I would have to do: buy into it every day, film study, doing all the things that the Jerry Rices and guys like that were doing.

"I was a good player when he got here, but I was far from a complete player. I never watched film, I didn't study my opponent. We started at 8 o'clock. I was getting in the building at 7:55. We were done at 3 o'clock, and I was out of the building at 3:05. I came to work and did my job, but that's about it.

"Todd made me understand that to be … a great player, you have to do more. You have to do extra. I've taken that to heart even since he's left. I continue to do things he taught me: run routes after practice, catch extra balls."
Funny, I don't hear Fitzgerald mention Charlie Weis at all.
Matt Cassel doesn't either.
"A lot of that had to do with Todd making a statement about exacting that certain standard," Chiefs quarterback Matt Cassel said, "and if that standard isn't being met, then nobody gets a free pass, no matter who you are."
"Coach Haley kind of stripped him down. He took away all of the the-attention-is-on-me kind of stuff. He made it all about the team. Todd really focused on his weight and getting him where he wanted to be. He really felt that the biggest leap Bowe could make was to get into shape and to be at a certain weight.

"It made him a stronger player because of it. When you saw Bowe last year, it was amazing. He came in and he looked outstanding. He played at that weight all year, and it had a big impact on how he played. He didn't get tired as easily. He was able to mentally focus and was a lot sharper. It helped with his concentration."
These quotes are further proof that Haley knows how to get the most out of his players. His work with Anquan Boldin, Larry Fitzgerald and now Bowe seems to indicate that has a habit of making good receivers into great receivers.
Jonathan Baldwin had better take notice. If he does, he may not have as long a road working with Haley as Dwayne Bowe did.
Regardless of his attitude coming in, I'm not too worried about Baldwin in the long term.
Not as long as the "Diva Whisperer" is around.
Oh, and if whispering doesn't work…well, he'll just yell.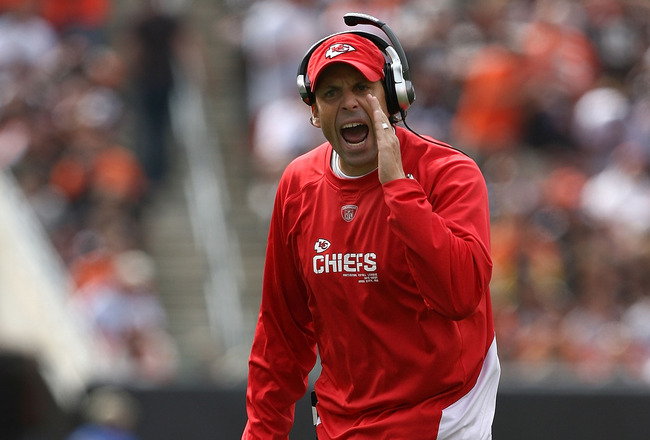 Tags: Dwayne Bowe Jonathan Baldwin Kansas City Chiefs Larry Fitzgerald Todd Haley