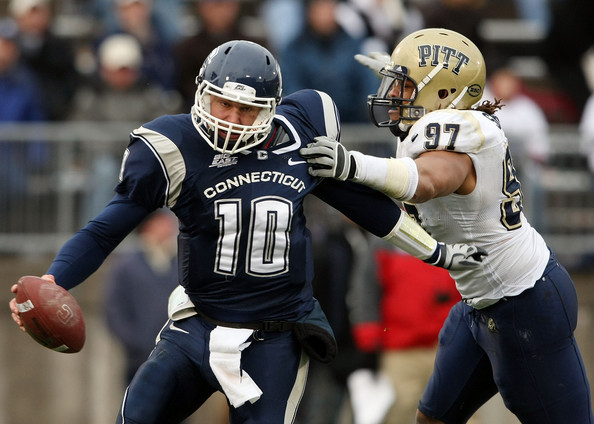 We continue looking at different prospects that could end up being drafted by the Kansas City Chiefs this April by reviewing DE/OLB Jabaal Sheard from Pittsburgh.
NFL Mocks had the Chiefs selecting Sheard in the 3rd round of their Chiefs seven round mock draft. Before we get to reviewing Sheard, I have to let you know that getting him in the 3rd round would be a bit of a steal. NFL Draft Scout currently has him to go in the first or second round so while he may not be a realistic 3rd round pick I thought we should take a hard look at him anyway.
Let's take a look at what Mocks had to say about Sheard:
If the Chiefs want to continue to stay on top of the AFC West, they will need to find more ways to get to the QB then Tamba Hali. Sheard is an underrated player in my view. He has been overshadowed by Greg Romeus during his time at Pittsburgh, but do not sleep on this guy. He has a good first step, a nice arsenal of pass rush moves and is a smart player with a good motor. He will need to learn how to drop in coverage, but he could develop into a very nice compliment to Tamba Hali.
More after the jump:
An ADCA All-American and racked up 52 tackles, 14.5 tackles for a loss, 9 sacks and 4 forced fumbles in 2010 on his way to being named Big East Defensive Player of the Year by the coaches. He would likely be switched to OLB should he land in KC's 3-4 system.
Sheard showed excellent consistency in his 3 years as a starter at Pitt which might be something that appeals to the Chiefs. As we all know, Coach Todd Haley constantly preaches that his players be the same guy every day. Sheard put up consistently good sack numbers each year and blossomed nicely in 2010 when teammate Greg Romeus went down to injury. Sheard spent a lot of time in Romeus' shadow but he rose to the occasion last season and distinguished himself as a dangerous and talented player in his own right.
While Sheard seems like a solid prospect, he does have some weaknesses that could make NFL Draft Scout's 1-2 round projection a bit high.
According to Draft 101.com, Sheard struggled with longer armed tackles and often lost the hand battle. They also raise some concerns that he may not be athletic enough to play rush linebacker and will sometimes give up on a play if he loses track of the ball.
That last bit about giving up on the play is certainly not something that will appeal to Haley and Pioli. Still, if they find Sheard slips to them in the 3rd round as Mocks projected, it may be hard for them to pass up the chance to add another pass rusher to work opposite Tamba Hali.
I am on the fence about whether or not the Chiefs should add a pass rusher. I feel as though they have pieces on their defense to create pressure without using a high pick on another rusher. Eric Berry and Javier Arenas are both excellent pass rushers when used correctly in certain situations and the presence of Wallace Gilberry give KC another legit pass rusher that a lot of folks often overlook.
I really wish the Chiefs had used Andy Studebaker a bit more last season so that I had a better idea of his pass rushing skills. Still, KC has Gilberry, Studebaker and Cameron Sheffield already on the roster. If KC can generate some decent pressure by rotating in those three players than they might be better served using their picks on other positions that are much more shallow, like center, NT and WR.
What do you think Addicts? Is Sheard a player you would want the Chiefs to take a chance on should he fall in their lap in round 3?
Tags: Jabaal Sheard Kansas City Chiefs Pitt Pittsbugh Panthers Todd Haley