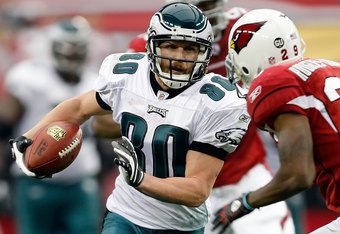 The Kansas City Chiefs have moved WR Donald Washington to injured reserve and have filled his roster spot with former Miami Dolphins and Philadelphia Eagles receiver Kevin Curtis.
Curtis, a cancer survivor was signed by the Miami Dolphins earlier this season. He only playe din one game this season and recorded 1 catch for 6 yards.
The best year of his career came in 2007 with the Philadelphia Eagles when he had 77 receptions for 1,110 yards and 6 touchdowns.
After that season Curtis had injury issues suffering from a sports hernia in 2008 and in 2009 he had arthroscopic surgery on his knee, causing him to sit out until Week 15. Curtis then returned to play Todd Haley and the Arizona Cardinals in the NFL Championship game. In that game Curtis recorded 4 catches for 122 yards which is an Eagles post season record for a receiver.
More after the jump.
The Eagles released Curtis in March of 2010. He then battled testicular cancer and after having surgery in September of 2010 to remove the tumor, he was signed by the Dolphins in November.
Curtis is 32 years old and is 6ft tall and listed at 186 pounds. He was blazingly fast coming out of college and though I am sure he has lost a step or two due to his age and his knee surgery, he is still a veteran WR presence with playoff experience.
A post with my thoughts on the Curtis signing is forthcoming.
Note: The Chiefs also brought back TE Cody Slate to the practice squad. Slate was a promising prospect in training camp that did not make the cut. Slate will take Quentin Lawrence's place on the practice squad.