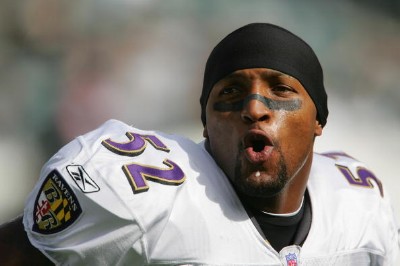 The Kansas City Chiefs will take on those Gothic and mysterious Baltimore Ravens at Arrowhead Stadium Sunday. It is not going to be easy, not by any stretch but the Chiefs do have history on their side. No NFL team has ever lost 7 straight playoff games. The Kansas City Chiefs have currently lost 6 straight playoff games.
They're due.
I'm just going to keep telling myself that.
Anyway, as we do every week most weeks, I am going to serve up my 5 keys to a Kansas City Chiefs victory.
After the jump.
1. Edgar Allen Throw
Cheesy key to victory? Sure. But it is the right way to go.
The Chiefs need to come our throwing. They absolutely must find a way to loosen up what is sure to be a blood thirsty Ravens defense.
At least once a week, I have a nightmare about the week leading up to the 2006 playoff appearance against the Indianapolis Colts. The word on the street was that the Colts defense was awful. They were worse than awful. They were putrid. Team's had been shredding them on the ground week in and week out.
For once, the pundits weren't counting the Chiefs out. They took their usual quick glance at our team and saw Larry Johnson and decided that there was a very good chance the Chiefs were going to run all over the Colts. It was all anyone talked about all week. How are the Colts going to stop the KC run game? LJ is going to have a huge day! The Colts are in trouble!
I laughed it off. I foolishly though that there was no way Herm Edwards was stupid enough to come out and try to pound LJ.
"We'd be playing right into the Colts hands," I thought."They are going to come out and stack the heck out of the box. We'll come out throwing. Surely."
Well…sometimes I still wake up screaming in a colt…I mean cold sweat. I yell out Herm or LJ…it depends on the night. Sometimes I yell out Dick Curl. Those are the really bad nights.
If the Chiefs come out and do what Herm did in 2006 the result will likely be the same.
Don't get me wrong here. I am not downplaying the importance of the running game here but this is the Baltimore Ravens we are talking about here. If we aren't balanced we are doomed. If we do exactly what they are expecting us to do, we are doomed.
2. Jonesin For Charles
And the cheesy labels continue.
If I see the Chiefs offense come out for the first series of the game with Thomas Jones in the backfield my head may literally explode, splattering brain-matter all over Big Matt. Big Matt won't care of course, because it will just make him look more frightening when he finishes his jog to Arrowhead Stadium to bust a cap in Todd Haley.
Jones has about as much a chance of averaging more than 2.5 yards per carry against the Ravens as I do beating Jamaal Charles in a footrace. Everyone loves Thomas Jones but at this point, where I love him most is on the bench.
Jones is old.
Jones is tired.
In fact, to put Jones on the field for anything other than to give Jamaal Charles a quick breather (and by breather I mean he comes in for play action or to block because a carry for Jones is a stop for the Ravens) would be insulting to Jones.
Todd Haley has flat out run Jones into the ground this season. TJ might be able to come back in the beginning of next season and run ok for a few weeks but no mistake, this dude cannot play at a high level for an entire 16 game season anymore, let alone the playoffs.
I am glad of Jones' presence because Jamaal Charles is now fresher than any running back in the NFL playoffs. He is also the best. In fact, Charles will be the best player on both teams Sunday.
That means if there is a carry to be had, it had better be going to Jamaal Charles. If Jamaal doesn't get at least 20 carries Sunday, the Chiefs don't really want to win.
3. Go Ahead, Make Their Day
The Chiefs may have been getting their butts whooped by the Oakland Raiders last week but until midway through the third quarter, the game was still tied. The game didn't turn into a route until KC started turning the ball over.
Turn the ball over to the Ravens and you might as well just forfeit. Kansas City is good but I don't see them recovering from any turnover that the Ravens turn into points. The Chiefs have go to hold on to the football and Matt Cassel has got to make smart decisions no matter how tough things get.
That means if the game is tied 3-3, the Chiefs have 9 yards of total offense and Cassel has been sacked 32 times, he still has got to play smart. Poor protection might not be his fault but he can't throw his team out of the game like he did last week.
4. Don't Let Them Give You Any Flac-co
The Ravens have not had an easy time protecting QB Joe Flacco and the Chiefs have got to take advantage of that. If the Chiefs decide to blitz, they had better get there because Anquan Boldin and Derrick Mason will make them pay.
Sack the Flac should be KC's mantra this week.
5. Rice Shortage
Lastly, the Chiefs have to stuff Ray Rice every time he touches the football. If the Ravens get their running game going the Chiefs are doomed.
If there is a game plan I would like to see in this game it would be what the Chiefs did defensively most of the Texans game. The Chiefs managed to shut down Arian Foster while also containing the Texans passing attack until the 4th quarter. Sure, the defense collapsed at the end but I don't see that happening if that game was replayed today. Also, I love Boldin but he is no Andre Johnson.
Probably the best way to stop Rice is to get an early lead. If the Chiefs can come out fast and get up a couple of scores on the Ravens, they can force Baltimore to be one dimensional. The more long passing situations the Ravens find themselves, the better things will go for the Chiefs.
Alright Addicts, those are my 5 keys to victory. What are yours?